Francesco Venturi
#voce #untraining #unselfing #riccardoIII
Francesco Venturi definisce la voce, oggetto cardine della sua ricerca su Riccardo III a cui si legano i podcast, "uno spazio affollato", risultante dalla "risonanza di molte voci, che parlano al di fuori e al lato del linguaggio". Il Riccardo III di Venturi, mai andato in scena a causa del Covid, trova un'analogia col mito di Eco. L'ecolalia diventa la cifra espressiva di un linguaggio vocale e fisico spiazzante, di una voce diventata soggetto plurale. Nel podcast di Venturi ci ritroviamo così immersi in una sovrapposizione di voci che risuonano e ci attraversano come se appartenessero ad una parte di noi.
Francesco Venturi refers to the voice, the pivotal object of his research on Richard III which the podcasts are linked to, as "a crowded space", resulting from "the resonance of many voices, that speak both outside of and alongside language." Venturi's Richard III, never staged because of Covid, finds an analogy with the myth of Echo. Echolalia becomes the expressive code of an unsettling vocal and physical language, the code of a voice that became a plural subject. In Venturi's podcast, we find ourselves surrounded by an overlap of voices that resonate and pass us through as if they belonged to a part of ourselves.
POD_1 – Now is the Winter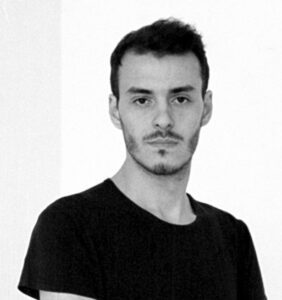 BIO
Francesco Venturi è un musicista e compositore. Dal 2019 è ricercatore alla Kingston University di Londra, con uno studio sulla relazione tra vocalità e identità. Come cantante, alterna l'improvvisazione radicale alla lirica, e presta la sua voce in opere d'arte, film, programmi radiofonici e progetti interdisciplinari nelle arti performative. È autore inoltre di musiche per il cinema documentario, la danza e il teatro sperimentale. Ha presentato la sua musica in istituzioni e festival quali Teatro Nazionale e Milano Musica, Milano; Transart Festival, Bolzano; George Wood Theatre, Londra; Manifesta11, Zurigo; Palais de Tokyo, Parigi. Nel 2017 fonda insieme a Francesco Fonassi il duo Interlingua, che ha all'attivo tre album in studio e due tour internazionali. Molto attivo nella curatela musicale, è codirettore artistico della venue Spettro a Brescia, e lavora presso la Fondazione Teatro Donizetti di Bergamo.
Francesco Venturi is a musician and composer. Since 2019, is a doctoral candidate at Kingston University of London, with a study on the relationship between vocality and identity. As a singer, he alternates between radical improvisation and opera, and lends his voice in artworks, films, radio programmes and interdisciplinary projects in the performing arts. He is also the author of music for documentary movies, dance and experimental theatre. He presented his music in institutions and festivals such as Teatro Nazionale and Milano Musica (Milan); Transart Festival (Bolzano); George Wood Theatre (London); Manifesta11 (Zurich); Palais de Tokyo (Paris). In 2017 he founded with Francesco Fonassi the duo Interlingua, which released three studio albums and toured internationally. Very active in music curating, he is co-artistic director of the venue Spettro in Brescia and works at the Fondazione Teatro Donizetti in Bergamo.
***
I Martedì a Casa degli Artisti
 i martedi a Casa degli Artisti
radioarte collabora con 
Casa degli Artisti
 di Milano, storico centro di residenza, produzione e fruizione artistica trasmettendo nella giornata di martedi, in tre appuntamenti orari, palinsesto composto da opere, live, ed altri contributi a cura del gruppo di lavoro di Casa degli artisti, la programmazione della giornata si svolge in relazione con i temi di questi appuntamenti
–
Tuesdays at Casa degli Artisti
radioarte from this month (02/2021) begins the collaboration with 
Casa degli Artisti 
in Milan, a historic center of residence, production and artistic fruition, broadcasting on Tuesdays, in three hourly appointments, a program consisting of works, live, and other contribution .curated by the Casa degli Artisti working group, the day's programming is held in conjunction with the topic of these appointments
***