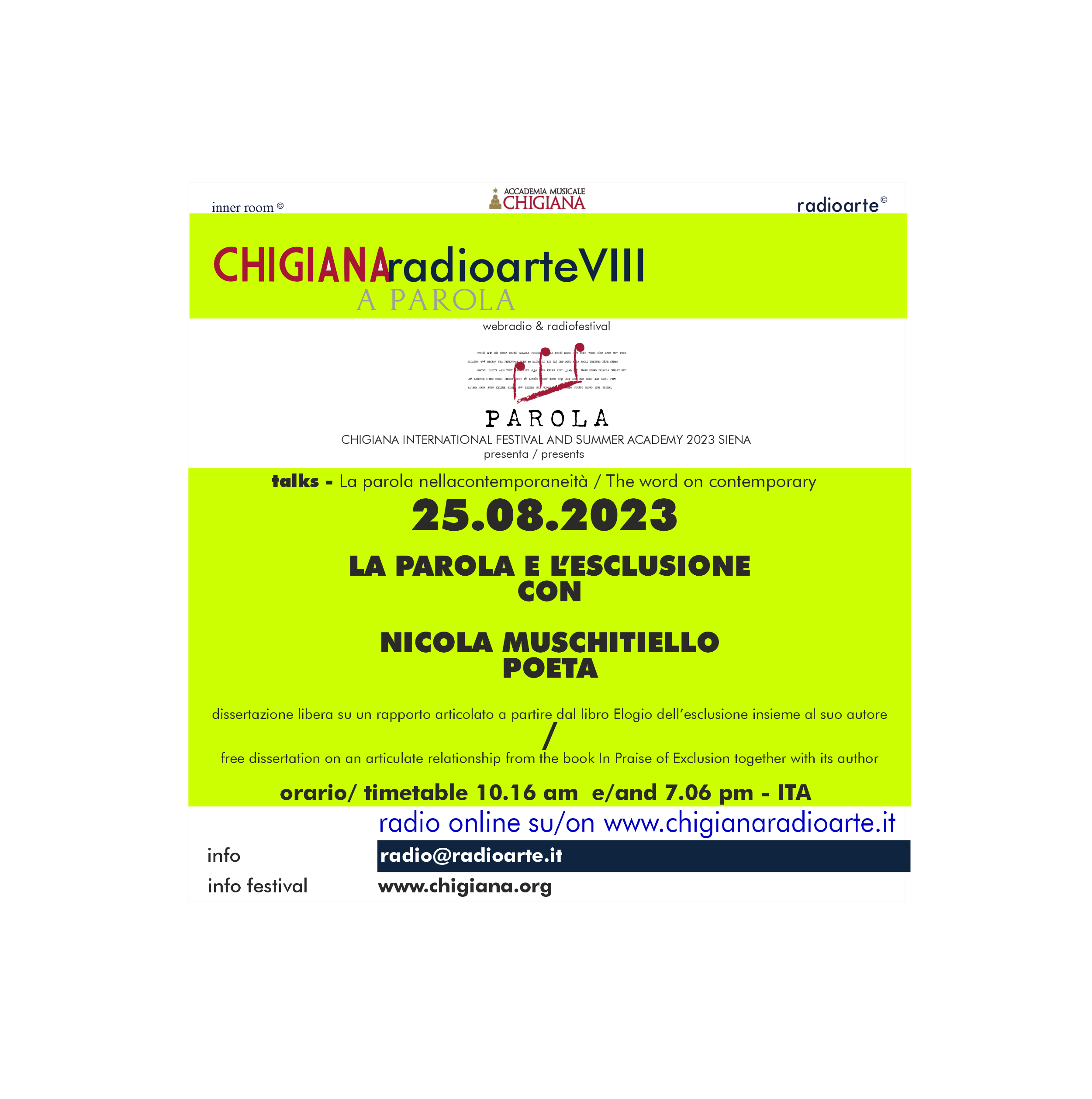 web radio del festival / Sezione speciale del Chigiana International Festival e Summer Academy 2023
𝐋𝐀 𝐏𝐀𝐑𝐎𝐋𝐀 𝐄 𝐋'𝐄𝐒𝐂𝐋𝐔𝐒𝐈𝐎𝐍𝐄
con 𝑁𝑖𝑐𝑜𝑙𝑎 𝑀𝑢𝑠𝑐ℎ𝑖𝑡𝑖𝑒𝑙𝑙𝑜
in occasione di CHIGIANA INTERNATIONAL FESTIVAL AND SUMMER ACCADEMY 2023, dedicato alla PAROLA e il compositore LUCIANO BERIO.
"INCONTRO" di 25 AGOSTO 2023, 10:16,  17:06
La parola nella contemporaneità con poeta Nicola Muschitiello.
Dissertazione libera su un rapporto articolato a partire dal libro Elogio dell'esclusione insieme al suo autore.
«Perché l'inclusione abbia un senso e un valore, ha bisogno dell'esclusione di quanto ne vìoli il senso e il valore».
Il concetto di inclusione, necessario ma anche illusorio, è tra i più dispotici del nostro tempo: ideologicamente abusato nei discorsi della politica, nei programmi della didattica scolastica, negli incontri istituzionali e internazionali. Ma in queste dense e calibrate pagine l'autore ci ricorda quant'è necessario il concetto opposto e complementare di esclusione, per riconoscerne le vitali applicazioni in ogni ambito dell'umano agire.
---
CHIGIANAradioarteVIII è lieta di annunciare
"A PAROLA Talks" è una rubrica condotta da Fedrico Fusj, ideata con radioarte ©2023.
---
Nicola Muschitiello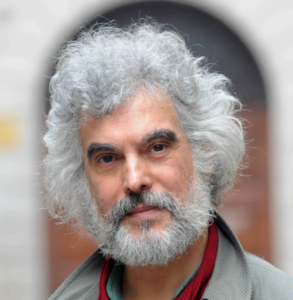 Nicola Muschitiello> è poeta (La rosa eterna e Il fuoco dell'età i suoi ultimi libri) e traduttore di letteratura francese (I Fiori del male e altre opere di Baudelaire e di diversi autori).
Consapevole che la poesia è «metafisica istantanea» (Bachelard), in accordo con essa, pratica una solitaria riflessione sulla condizione umana e sul mondo di oggi. Scopri di più>>
---
---
For the cover of the column "A PAROLA TALKS" 
STORY: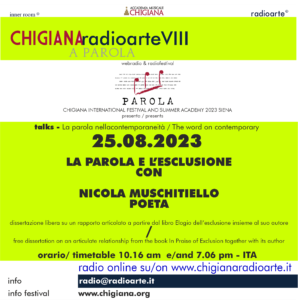 https://www.radioarte.it/
𝖢𝖧𝖨𝖦𝖨𝖠𝖭𝖠𝗋𝖺𝖽𝗂𝗈𝖺𝗋𝗍𝖾𝖵𝖨𝖨𝖨
𝑓𝑒𝑠𝑡𝑖𝑣𝑎𝑙 𝑤𝑒𝑏 𝑟𝑎𝑑𝑖𝑜
Special section of the Chigiana International Festival and Summer Academy 2023
Wishes you GOOD LISTENING
***
CHIGIANAradioarte
special section of the Chigiana International Festival & Summer Academy, which takes place in Siena in the months of July/August, dedicated to radio and sound art which broadcasts from the domains 
www.chigianaradioarte.it
 and 
www.radioarte.it
2023 edition
CHIGIANAradioarteVIII
"A PAROLA"
Siena, 6 July – 2 September 2023
dedicated to LUCIANO BERIO
In the 2023 edition, it tackles a crucial theme in radio, namely the
relationship between word and sound, through a very diverse
programming united under the title "Word" and includes the
transmission of both spontaneous and invited contributions
created around the word and its current meaning, along
with in-depth research on the topic within the fields of radio
experimentation and sound art.
CHIGIANAradioarteVIII
reaches its eighth year of programming, the temporary radio resulting from
the synergy between radioarte and the Accademia Musicale Chigiana di Siena in collaboration with "innerroom".
In addition to broadcasting events from the festival for its entire
duration (July 6 to Sept. 2), it also devotes time towards a
special schedule of original contemporary production and
interdisciplinary multimedia installations and Sound Art.
Welcome to download the app and GOOD LISTENING
-ask for quercode-
Read more:
Chigiana RadioArte collaborates with numerous partners such
as Klanghaus Untergreith (Austria), 60 seconds (Canada), Radio
Aporee (Germany), Radiophrenia (Great Britain), Dot unlimited,
Uradio-University of San Paulo ( Brazil), ZKM ( Germany), Fair
Play (France-Belgium), Ram radioarte mobile, Phonurgia,
Nova (France-Germany), Woerdz (CH), UK International
Radiodrama Festival, Laborsonorus, El Ruido es el Mensaje,…
CHIGIANAradioarte
A production of the Accademia Musicale Chigiana
with inner room – radioarte – Open Zona Toselli