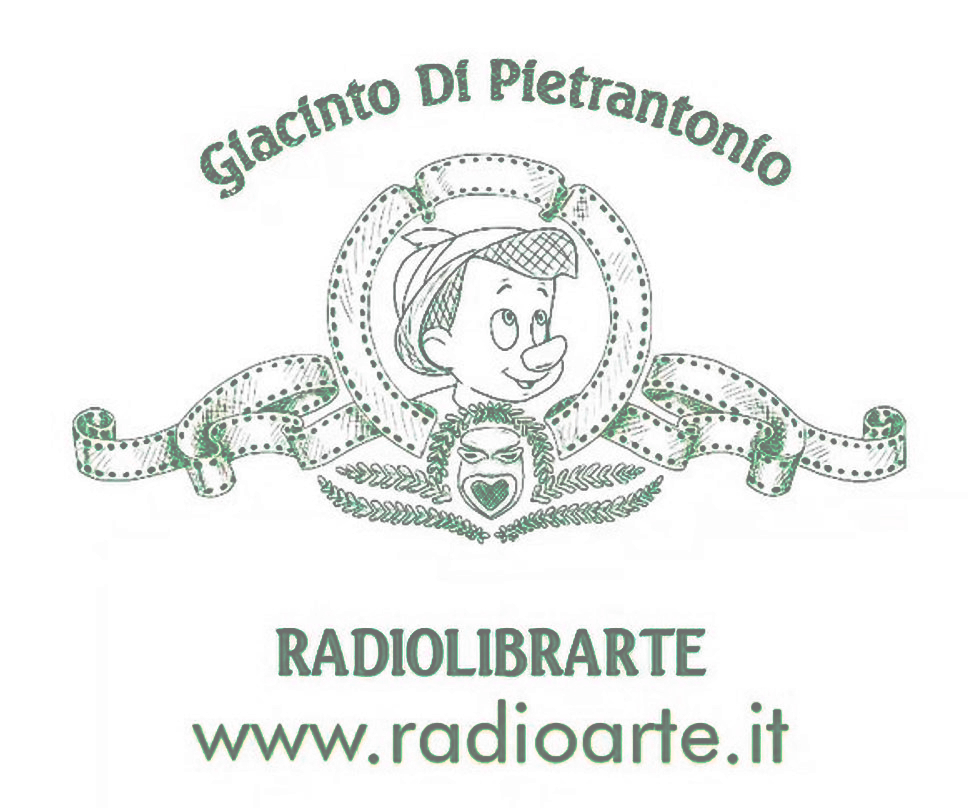 RADIOLIBRARTE
Giacinto Di Pietrantonio dialoga con Massimiliano Gioni sul suo libro "Il desiderio messo a nudo
Conversazioni con Jeff Koons"
Rubrica ideata e condotta da Giacinto di Pietrantonio su libri di, per e introno all'arte.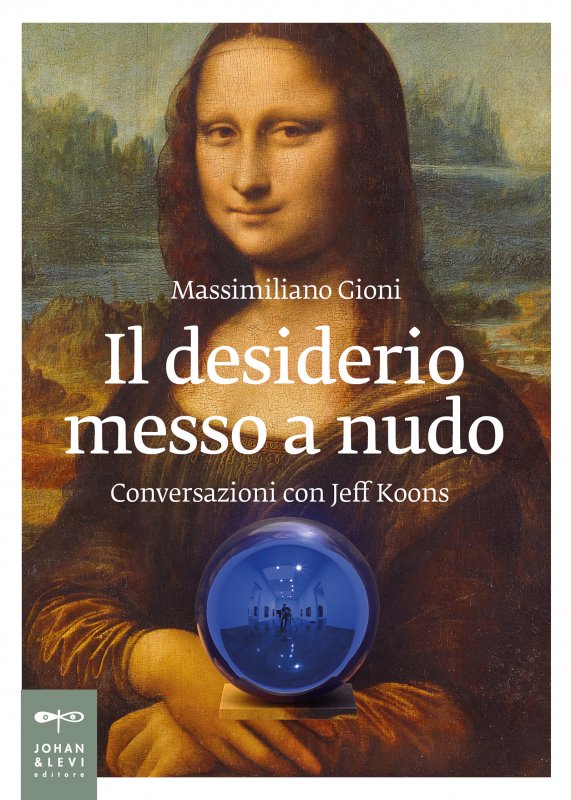 Il desiderio messo a nudo
Conversazioni con Jeff Koons
Un senso di euforia e di pienezza vitale pervade l'universo di Jeff Koons, popolato di opere che immortalano il fascino dei beni di consumo di massa. L'uso di materiali specchianti amplifica l'attrattiva quasi erotica che si sprigiona da questi banali oggetti, e li rende voluttuosi come sirene che seducono lo spettatore invitandolo a partecipare alla stessa idea di successo di cui si fanno messaggeri.
Brillante e maniacale come le sue sculture, Koons racconta se stesso e la sua opera in queste conversazioni condotte tra il 2018 e il 2021 da Massimiliano Gioni, che con acume critico sollecita l'artista a ripercorrere le sue tappe più importanti, dall'infanzia in Pennsylvania all'incontro con Duchamp, dai viaggi in Italia alla ricerca dei migliori ceramisti alle recenti commissioni a Parigi e in Qatar. Viene così messa a nudo la filosofia di cui si nutre una pratica artistica che combina tradizione d'avanguardia e un atteggiamento di apertura e di accettazione. Apertura verso un tipo di eccentricità tipicamente americana e accettazione della propria storia, del proprio gusto, dei propri desideri, anche. La libertà di Koons rispetto a ogni divisione fra cultura alta e bassa gli permette di attingere con la stessa naturalezza dai negozi di elettrodomestici o dall'arte rinascimentale italiana, con la quale da sempre intrattiene un dialogo da pari a pari. Una liberazione totale.
Giacinto Di Pietrantonio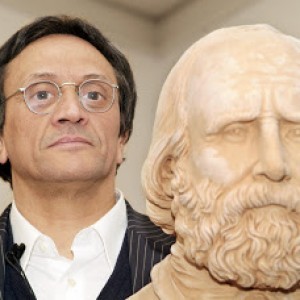 BIO
Giacinto Di Pietrantonio Direzione della GAMeC (" Galleria d'Arte Moderna e Contemporanea di Bergamo"). Docente di Storia dell'Arte presso l'Accademia di Brera, ha ricoperto il ruolo di Redattore Capo prima e Vicedirettore poi per Flash Art Italia dal 1986 al 1992.
Massimiliano Gioni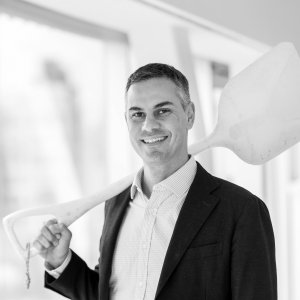 BIO
Direttore artistico del New Museum di New York e direttore della Fondazione Nicola Trussardi di Milano, ha curato numerose esposizioni internazionali, tra cui la Biennale di Venezia (2013). Con Jeff Koons ha organizzato "Appearance Stripped Bare: Desire and the Object in the Work of Marcel Duchamp and Jeff Koons, Even" al Museo Jumex di Città del Messico (2019), la prima mostra a mettere in dialogo l'opera di Jeff Koons con quella di Marcel Duchamp, e la grande retrospettiva "Jeff Koons: Lost in America" a Doha, Qatar (2021).  >>
–
GRAZIE A GIACINTO PER IL SUO CONTRIBUTO PER NOI TUTTI!
/
EN
RADIOLIBRARTE
Giacinto Di Pietrantonio talks with Massimiliano Gioni on his book "THE NAKED DESIRE, Conversations with Jeff Koons",  Johan & Levi Editor, 2021.
Column conceived and conducted by Giacinto di Pietrantonio on books by, for and around art.
THE NAKED DESIRE, Conversations with Jeff Koons
A sense of euphoria and fullness of life pervades the universe of Jeff Koons, populated with works that immortalize the charm of mass consumer goods. The use of mirroring materials amplifies the almost erotic attraction that emanates from these banal objects, and makes them voluptuous like sirens that seduce the viewer by inviting him to participate in the same idea of ​​success they are messengers of. Brilliant and maniacal like his sculptures, Koons tells about himself and his work in these conversations conducted between 2018 and 2021 by Massimiliano Gioni, who with critical acumen urges the artist to retrace his most important stages, from childhood to Pennsylvania to the meeting with Duchamp, from trips to Italy in search of the best potters to recent commissions in Paris and Qatar. Thus, the philosophy that feeds on an artistic practice that combines avant-garde tradition and an attitude of openness and acceptance is laid bare. Openness to a typically American type of eccentricity and acceptance of one's history, one's taste, one's desires, too. Koons' freedom with respect to any division between high and low culture allows him to draw with the same naturalness from appliance stores or from Italian Renaissance art, with which he has always maintained a dialogue on an equal footing. A total release.
Giacinto Di Pietrantonio
Giacinto Di Pietrantonio Direction of GAMeC ("Gallery of Modern and Contemporary Art of Bergamo"). Professor of Art History at the Brera Academy, he held the role of Chief Editor first and then Deputy Director for Flash Art Italia since 1986 to 1992.
Massimiliano Gioni
Artistic director of the New Museum in New York and director of the Nicola Trussardi Foundation in Milan, he has curated numerous international exhibitions, including the Venice Biennale (2013). With Jeff Koons he organized "Appearance Stripped Bare: Desire and the Object in the Work of Marcel Duchamp and Jeff Koons, Even" at the Jumex Museum in Mexico City (2019), the first exhibition to put the work of Jeff Koons in dialogue with that of Marcel Duchamp, and the great retrospective "Jeff Koons: Lost in America" in Doha, Qatar (2021). >>
–
THANKS TO GIACINTO FOR HIS CONTRIBUTION TO ALL OF US!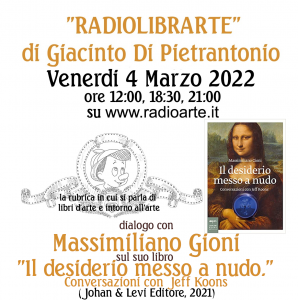 STORY:
VENERDÌ  4 Marzo 2022
RADIOLIBRARTE
.@danilo_sciorilli – logo grafica
@martina.fusj – grafica, postproduzione
---
produzione radioarte, SIENA 2021
https://www.radioarte.it/