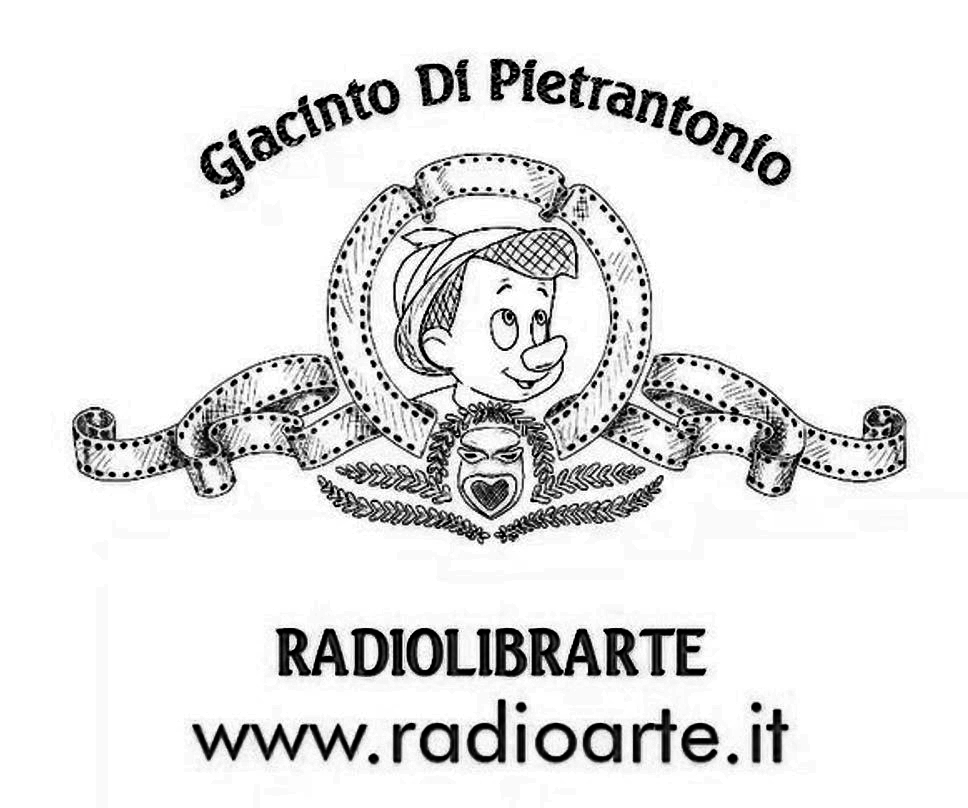 RADIOLIBRARTE
Giacinto Di Pietrantonio dialoga con Brunella Antomarini sul suo libro "LE MACCHINE NUBILI"
Castelvecchi Editore, 2021
Rubrica ideata e condotta da Giacinto di Pietrantonio su libri di, per e introno all'arte.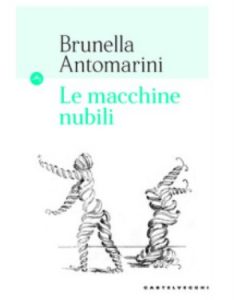 Le macchine nubili
Palomilla è una macchina in grado di reagire agli impulsi luminosi, in­ventata dal padre della cibernetica Norbert Wiener negli anni Qua­ranta. Rachael è l'ignara replicante nel film Blade Runner di Ridley Scott. Sophia è il più avanzato robot dalle sembianze umane, sviluppato nel 2015 dalla Hanson Robotics di Hong Kong.
Sono solo alcune delle «macchine nubili» protagoniste di questo straordina­rio «libro ibrido sugli ibridi», che Brunella Antomarini ambienta in un inde­terminato futuro in cui le macchine hanno pacificamente assunto il controllo del pianeta, e l'umanità sopravvive solo in giardini, allevata e studiata come in laboratori di ricerca.
In un dialogo filosofico, le macchine discutono la loro origine e genealogia, alla ricerca del fine ultimo – telos – della propria esistenza. Il loro interro­garsi è lo specchio del nostro: Antomarini traccia una storia dell'umanità po­stulando il suo superamento, riproponendo l'inesausta domanda su cosa sia l'«umano».
BRUNELLA ANTOMARINI
Docente di Estetica e Filosofia contemporanea presso la John Cabot University di Roma, ha una formazione multi-disciplinare che va dall'estetica all'epistemologia contempora­nea, all'antropologia filosofica e al post-umanesimo. È autrice, tra l'altro, di L'errore del maestro. Una lettura laica dei Vangeli (2006), Pensare con l'errore (2007), La preistoria acustica della poesia (2013), The Maiden Machine. Philosophy in the Age of the Unborn Woman (2013).
Fonte:
http://www.castelvecchieditore.com/prodotto/le-macchine-nubili/
/
EN
RADIOLIBRARTE
Giacinto Di Pietrantonio talks with Brunella Antomarini on her book "THE NUBLE MACHINES" Castelvecchi Editore, 2021
Column conceived and conducted by Giacinto di Pietrantonio on books by, for and around art.
Palomilla is a machine capable of reacting to light impulses, invented by the father of cybernetics Norbert Wiener in the 1940s. Rachael is the unsuspecting replicant in Ridley Scott's Blade Runner. Sophia is the most advanced human-like robot, developed in 2015 by Hong Kong-based Hanson Robotics. These are just some of the "single machines" protagonists of this extraordinary "hybrid book on hybrids", which Brunella Antomarini sets in an indefinite future in which machines have peacefully assumed control of the planet, and humanity survives only in gardens, bred and studied as in research laboratories. In a philosophical dialogue, the machines discuss their origin and genealogy, in search of the ultimate goal – telos – of their own existence. Their questioning is the mirror of ours: Antomarini traces a history of humanity by postulating its overcoming, re-proposing the inexhaustible question of what "human" is.
BRUNELLA ANTOMARINI
Professor of Contemporary Aesthetics and Philosophy at John Cabot University in Rome, he has a multi-disciplinary background ranging from aesthetics to contemporary epistemology, philosophical anthropology and post-humanism. She is the author, among other things, of The Master's Error. A secular reading of the Gospels (2006), Thinking with error (2007), The acoustic prehistory of poetry (2013), The Maiden Machine. Philosophy in the Age of the Unborn Woman (2013).
Source: http://www.castelvecchieditore.com/prodotto/le-macchine-nubili/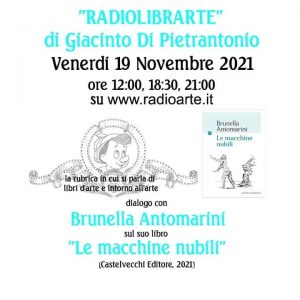 STORY:
VENERDÌ 19 Novembre 2021
RADIOLIBRARTE
.@danilo_sciorilli – logo grafica
@martina.fusj – grafica, postproduzione
---
produzione radioarte, SIENA 2021
https://www.radioarte.it/